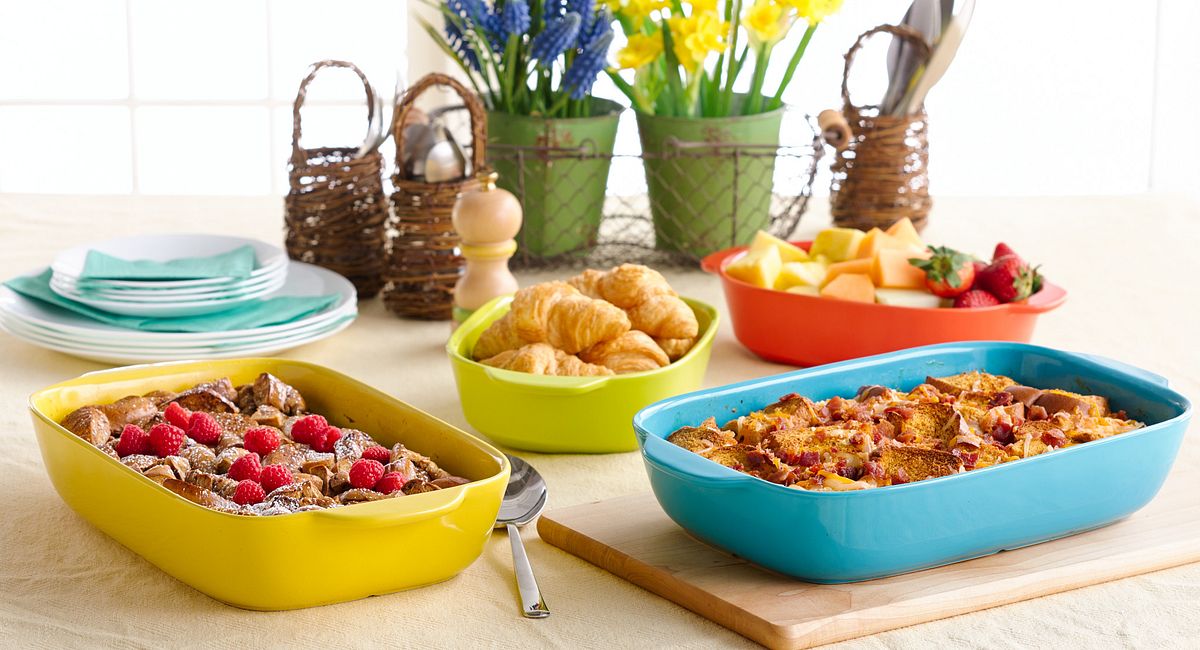 Corelle Brands | Food Art: Behind the Scenes at a Photo Shoot
We don't think of photography as just food or products. We create food art. No shortcuts. No tricks for the camera. Just real food, naturally made with a dash of love that gives it that special glow. If it doesn't move you emotionally, we didn't succeed.
To master the fine art of food photography, it takes a lot of hands in the kitchen (pun intended) to create images that are lick-the-screen-delish. Here's a peek behind the scenes at one of our recent photo shoots, where we strive to create the finest epicurean photographs in the food industry. It takes countless hours of planning, shipping product, propping, collaboration between brands and photo staff, grocery shopping and a secret ingredient: Unbridled talent to change food photography into food masterpieces.
WELCOME TO SHOOT DAY!
4:45 a.m. And We're Off
RRRRIIINNNGGGGG! (Well, more likely a smartphone tone.) Alarms ring and our food stylists start their day before sunup. Think growing up on a farm helps in this line of work? Doesn't hurt! The groceries have been purchased and organized. Ingredients are lined up for the first recipes of the day, and we're off and running. There are a couple dozen food photographs to prep food for in the next 2 days. It takes real skill to pull that off. Timing, multitasking and experience. Without these skills, a photo shoot could go from days to weeks. "It's like cooking for a holiday every day," one stylist says.
7:00 a.m. Kitchen Know-How
The kitchen is already humming, ingredients are being mixed, chopped and measured. Ovens are preheated, and anticipation of numerous photos being shot in one day creates an assembly line of recipes coming and going. Here are a few tips from our food experts in charge of keeping dozens of recipes on track, and showing them the demanding attention every food star needs:
"This couldn't be done without being organized. We work ahead, prepping each recipe the day before. In the end, it makes it so much easier."
"We do all the chopping at once. If there are several recipes using chopped onions, we can have it all done and don't have to stop and do it for each recipe."
"Have all your ingredients out and ready to go before you start a recipe. Then you don't have to run back and forth, wasting time."
"Often we parbake, then put on the finishing touches the next day right before we go to camera."
"We create recipe kits, with all the ingredients prepped and organized."
8:00 a.m. Cast Call
Photographers get their final instructions on what recipes they're shooting today. They get to ask questions, and check out the food and products they'll be working with. More than one set is needed all day long, so that means the food prep has to be precise and on time. While the food staff cooks, tabletops, sets and props are being styled in front of cameras, so when the food is ready, we're ready to shoot.
9:00 a.m. Hot from the Oven
Beep! Beep! Beep! The timer goes off. More than one casserole made in a new CW by CorningWare™ baker is ready for our spring brunch set. Out they come to cool, but not for long. Fresh is what food art is all about. Ready on the set?
9:15 a.m. Bring in the Stars
With sets complete, props in place and lighting adjusted, the food and bakeware makes its way in. Quiet on the set—the stars have arrived. It's up to our talented food stylist assigned to the set to primp and pamper the stars, making sure the food looks as good or better than the products they're photographed in. That's setting the bar pretty high. Food is garnished, cheese on top is melted and we're ready to shoot.
9:17 a.m. Work with the Camera!
Initial photographs are taken. Surprisingly, what you see through the lens is often very different than what it looks like on the set. As you can see, product is spaced out and placed at just the right angles. The camera foreshortens the set, condensing everything into a very neat and natural scene, as if it came from your kitchen.
9:20 a.m. Those Devilish Details
The devil is in the details, and that's where we take the painstaking time and effort to turn food and products into food art. Focus, color balance and lighting are double-checked. Minor adjustments are made on the food. Sometimes, tweezers are the tool of choice to make the food "just right!" Are we done? Not quite.
9:25 a.m. Thumbs-Up?
Time for final approval. It's up to the brands we work with to give us the thumbs-up on each and every image created for Corelle, Pyrex, Snapware, CorningWare, Baker's Secret and Chicago Cutlery. If it isn't "lick-the-screen-delish," adjustments will be made until it is!
9:30 a.m. Next Up…
The set gets broken down, props are removed and food gets stored. We start again. A new surface makes its way to the set. Another recipe just came out of the oven. In minutes, the food star will arrive. Food art must be made!
DID YOU KNOW?
The typical grocery bill for a 3-day photo shoot is several thousands of dollars.
Where do all the leftovers go? With so many food stylists, set stylists and photographers in the mix, foods that are still edible (according to food safety guidelines) are sent home with the team in Snapware® Total Solution™ food-storage containers. After cooking all day, it's nice to have a break for dinner!
Unopened groceries at the end of a photo shoot get donated to the local food shelf.