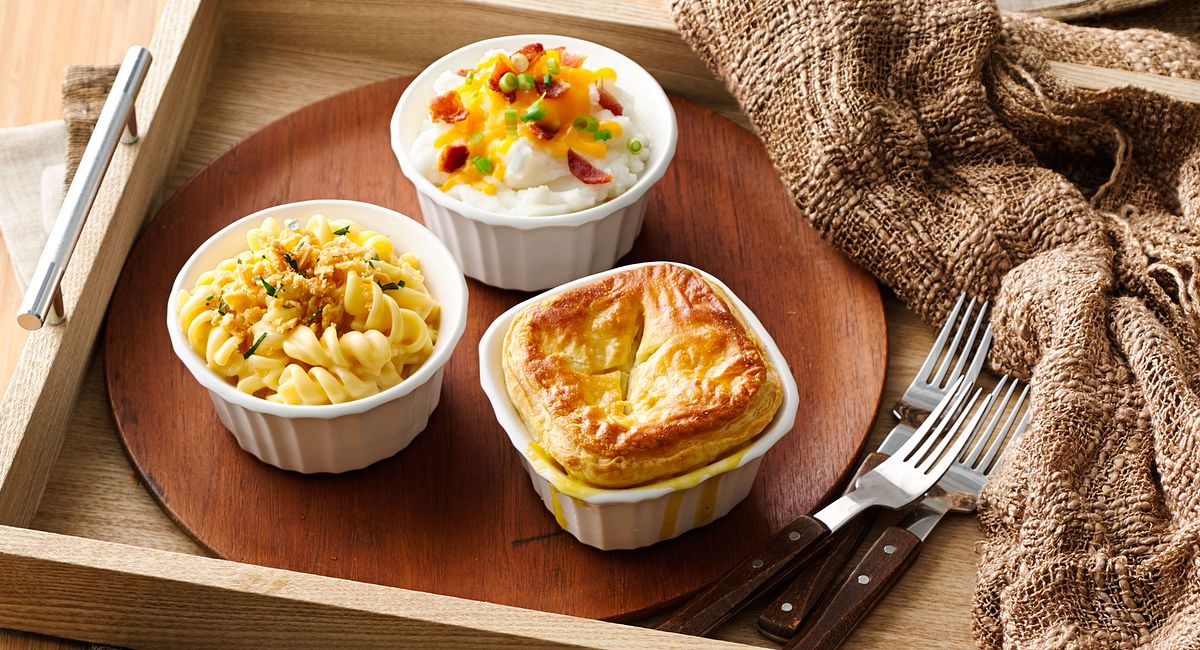 8 Maneras Inesperadas Para Cocinar En Moldes
Si solamente utilizas ramequines cuando estás haciendo crème brûlée y soufflés, llegó la hora de desempolvar esos pequeños platos. Hay docenas de deliciosas maneras de hornear en ramequín. ¡Dale ánimo a tu próxima fiesta! ¡Hornea desayunos brillantes! Has platos de una porcion tan deliciosos que todos van a levantar sus ramequines para celebrar. Con estas 8 recetas creativas, puedes sacarle mejor partido a este plato esencial.
1. MINI MACS
Mejora tu receta favorita de macarrones con queso haciéndola en un estilo de una porción. Ponlo en un RAMEQUÍN de 6-OZ CW BY CORNINGWARE™ y hornéalo hasta que esté caliente. ¿Necesitas un lugar para empezar? Prueba nuestro Mac and Cheese Horneado con Cheddar.
2. PEQUEÑO POT PIE
Los pot pies son el mejor alimento reconfortante, pero cuando estás cocinando para uno, este plato puede hacer que comas sobrados por días enteros. Mantén la cena fresca separando tu receta en porciones sencillas horneando mini pies en RAMEQUINES de 7-OZ CUADRADOS en FRENCH WHITE® de CORNINGWARE®. Los ramequines son lo suficientemente resistentes para la heladera, así que puedes preparar tu receta directamente en ellos y luego congelarlos hasta que estén listos para ser horneados.
3. HUEVOS SENCILLOS
¿Cómo te gustan tus huevos? Hay muchas opiniones al hacer huevos sencillos en estos pequeños platitos prácticos. Revueltos, pochados, horneados—todos son deliciosos. ¿Buscas algo de inspiración? Mira las ideas de Get Cracking! Hot New Ways to Cook with Eggs.
4. PAPAS MÁS PEQUEÑAS
¡Existen tantas maneras de rotar tus papas! ¿Por qué no darles un giro? Sea que prefiereas tus papas en puré, naco, horneadas dos veces o estilo hash brown con queso, servirlas en un RAMEQUINES de 4-OZ en FRENCH WHITE® de CORNINGWARE® las hará ver como de un millón de dólares—y estos ramequines de 4-oz son el tamaño perfecto para guarniciones.
5. PIZZAS PORCIONADAS
Solo una porción más… a veces es difícil guardar proporciones en perspectiva cuando se trata de la pizza. Controla tus antojos planeando porciones más pequeñas. Un RAMEQUÍN de 7-OZ REDONDOS en FRENCH WHITE® de CORNINGWARE® es perfecto para hacer pizzas de tamaño personal. Aprende como hacer una deliciosa deep dish con divertidas combinaciones de sabores de Michelle en Honest and Truly.
6. LASAÑITAS
El amor viene por capas… de pasta. Muéstrale a tus invitados cuanto te importan doblando la lasaña de esta noche dentro de un Ramekin de 7-oz en French White® de CorningWare® solo para ellos. ¿Quieres compartir algo extra-delicioso? Haz una pequeña versión de nuestra Cremosa Lasaña de Pollo con Espinaca o nuestra Lasaña de Enchilada de Frijol Negro.
7. DELICADOS POSTRES
Con el Nuevo Año, vemos intereses renovados en la comida saludable. Aunque esto no quiere decir que debes eliminar los postres por completo. Mantén tus resoluciones—y tu figura—bajo control con postres miniatura. Estos Mini Cheesecakes de Pastel de Zanahoria No Horneados son un excelente ejemplo de cómo puedes reducir sin suprimir tus sabores favoritos.
8. GANACHE MINIATURA
No hay nada como un poco de chocolate para calmar el antojo de dulce. Los Ramequines de 6-oz CW by CorningWare™ son seguros para el microondas, lo que los hace perfectos para preparar un poco de este Pequeño Lote de Ganache de Love Bakes Good Cakes.
No importa si estás buscando una manera de hacer tus ideas para la cena adorables, o quieres una manera práctica de practicar control de porciones, ¡minimizar tu vajilla es la forma de hacerlo! Los Ramequines de las fuentes para hornear de CorningWare tienen todos los beneficios de los platos más grandes, pero en tamaños pequeñitos que hacen de servir porciones sencillas una opción fácil.