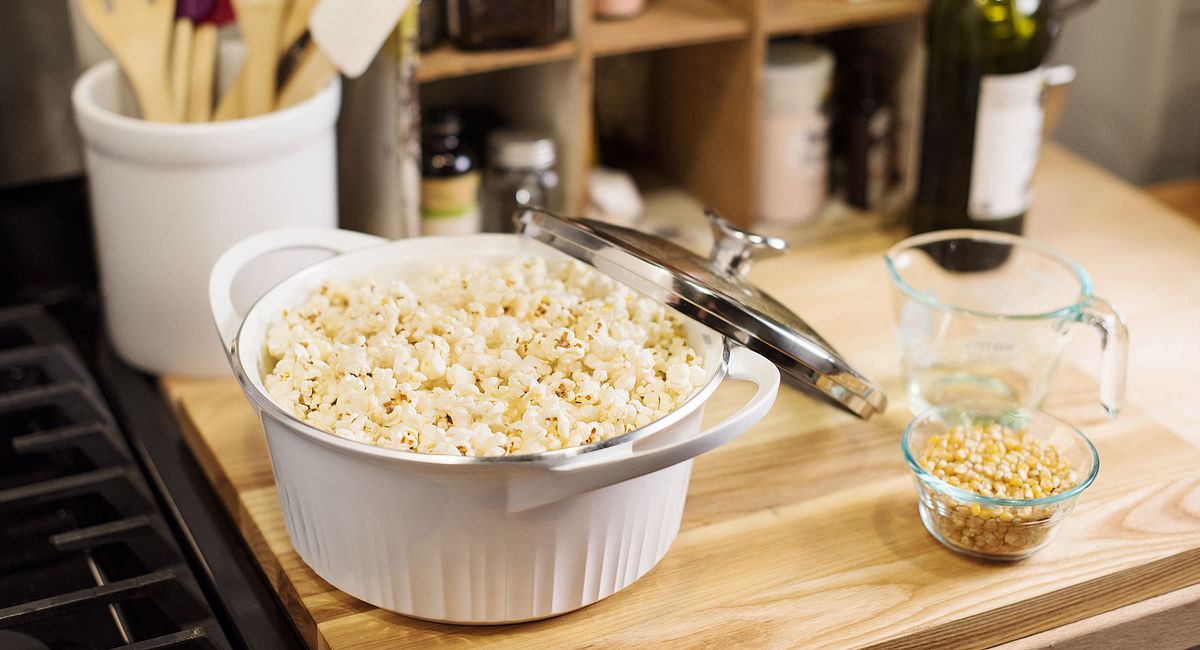 4 Surprising Things You Can Make in a Dutch Oven
Looking for a one-stop pot that can do it all? When it comes to being the jack-of-all-trades in the kitchen, the Dutch oven's got it covered. Made of durable cast aluminum for fast, even heating, CorningWare® Dutch ovens are ideal for braising, baking, simmering and stewing. Faster than a slow cooker, larger than a skillet, Dutch ovens are great for making a wide variety of dishes.
In fact, we've gathered together four surprisingly simple recipes that we bet you didn't know could be done Dutch. Check out just how easy it is to dive into Dutch-oven cooking.
1. DOUBLE UP ON DIP
Forget about baking! Prep party dips on the stovetop with the CORNINGWARE® FRENCH WHITE® CAST ALUMINUM™ 3.5-QT WHITE ROUND DUTCH OVEN. Whip up all sorts of warm dips, then set them right on your table. This sturdy dish is stylish enough for serving, too.
Here's How: Double, triple or even quadruple this Quick and Easy Queso Dip—the hardy Dutch oven has more than enough room for big batches. HINT: Be sure you're heating this on the stovetop rather than in the microwave. The metal core makes nukes a no-go.
2. POP PERFECT
Homemade popcorn is a cinch when you use a Dutch oven to do your popping. Get old-school flavor without the microwave when you pop atop the stove.
3. MEAT YOUR MATCH
Craving meat and potatoes? Make the most tender oven-baked roast ever. Though most of us turn to slow cookers on Sundays, homemade roasts are even better when prepared in a Dutch oven. Grab a beef pot roast (chuck roast, rib roast, shoulder roast, and boneless or bone-in roasts are all great options) and try this technique.
Here's How: Heat oven to 375 degrees. (Regardless roast size, always cook at 375 degrees F, for 20 minutes per pound.) Generously season a meat with salt and pepper. In a Dutch oven on the stove over medium-high heat, heat 1/4 cup olive oil; brown roast in oil on all sides. Add beef broth to the pan; heat to boiling. Cover and bake 2 hours or until meat is tender. If desired, add diced carrots and potatoes to the broth before baking.
4. TAKE THE CAKE
Let your baking skills shine by bringing an oven-made fave to life on the stovetop. Whether you're making it from scratch or using a boxed cake mix, this method is sure to impress even the fussiest of cake aficionados.
Here's How: Start by placing a cast-iron rack or trivet inside your Dutch oven. Place on the stove over high heat; pop on the lid and heat for 5 minutes. Pour cake batter (like this One-Bowl Chocolate Cake) into an 8-inch cake pan, then place on the rack/stand inside your preheated Dutch oven. Replace the lid and reduce heat to medium-high. You can start checking the cake for doneness at 25-30 minutes. The cake is ready to remove from the heat when a toothpick inserted in the center comes out clean.
Once you've served up the goodies, simply wash your Dutch oven in hot, soapy water. The nonstick ceramic interior makes for easy cleaning, and the nonporous surface won't absorb food odors, flavors or stains, making everything super simple from start to finish.
EXPERT TIPS
DUTCH OVEN PRIMER. Discover more ways to use your bakeware with Lovin' the Dutch Oven.
ONE-DISH DELISH. Get the inside scoop on one-dish shortcuts and secrets here.
SOUPS ON. Soup is another easy-peasy dish that's instantly Dutch-oven compatible. For inspiration, read Soups On! You In?.
Productos Recomendados
Productos Recomendados